How to activate any LuJoSoft Software
This decision was very difficult for me to take
For almost now 7 years I'm creating free app for everyone to use without limits or any other trap that others do to try to get money for there work. After over 500,000 d/ls I received $ 180.00 in donation from exactly 6 users, thank you again for the appreciation you gave me.
The problem is that my app are free and I did maintained them free even if I'm paying from my pocket every time you guys use it, every month I pay fee to all those image storage so you can store them and use the services for free, plus fee for LuJoSoft server that I pay every months "don't forget this is a private server and it's far from free ", to be able to continue to distribute all the app I'm producing for your use, all this without advertising on the site.
Note that the donation will give access to all support forums for all the applications and will receive a donator rank to access those forum, all other member won't get support, also update will be enable for user that will support me.
Note to all users that will crack, patch or modify the application to save a small donation then I will crack, patch or modify your PC as easy you did with my application. And for many of you knows what I'm able to do so consider yourself warned.
Note: I don't care about the donation amount even $1.00 is good and better than nothing.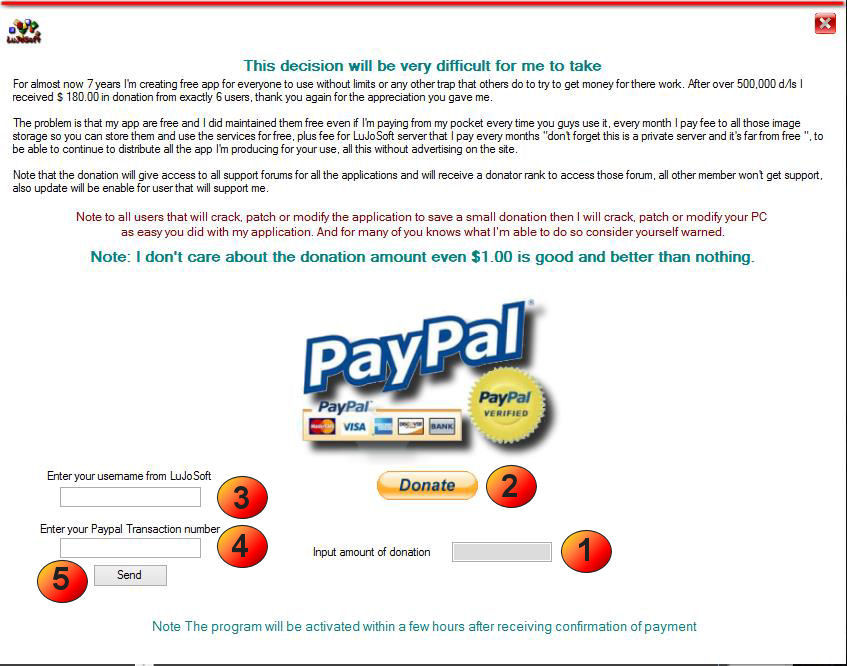 Easy done in 5 step
Enter the amount of donation.
Click the donate button.
Enter your LuJoSoft username.
Enter the transaction number.
Click send.
The program will be activated within a few hours after I received the confirmation of payment
Thank you all for supporting LuJoSoft
Note: the activation is per computer and wont work if you install it on a second PC. All activation on done on my side so you don't have anything to enter
If for what ever reason your having problem sending the request code from the nag screen then use this tool to get the request code and PM it to me or send it to this Email
activate@lujosoft.net
. Also tell me for witch program your activation is for
[/align]