LuJoSoft Movie Nfo Creator 2015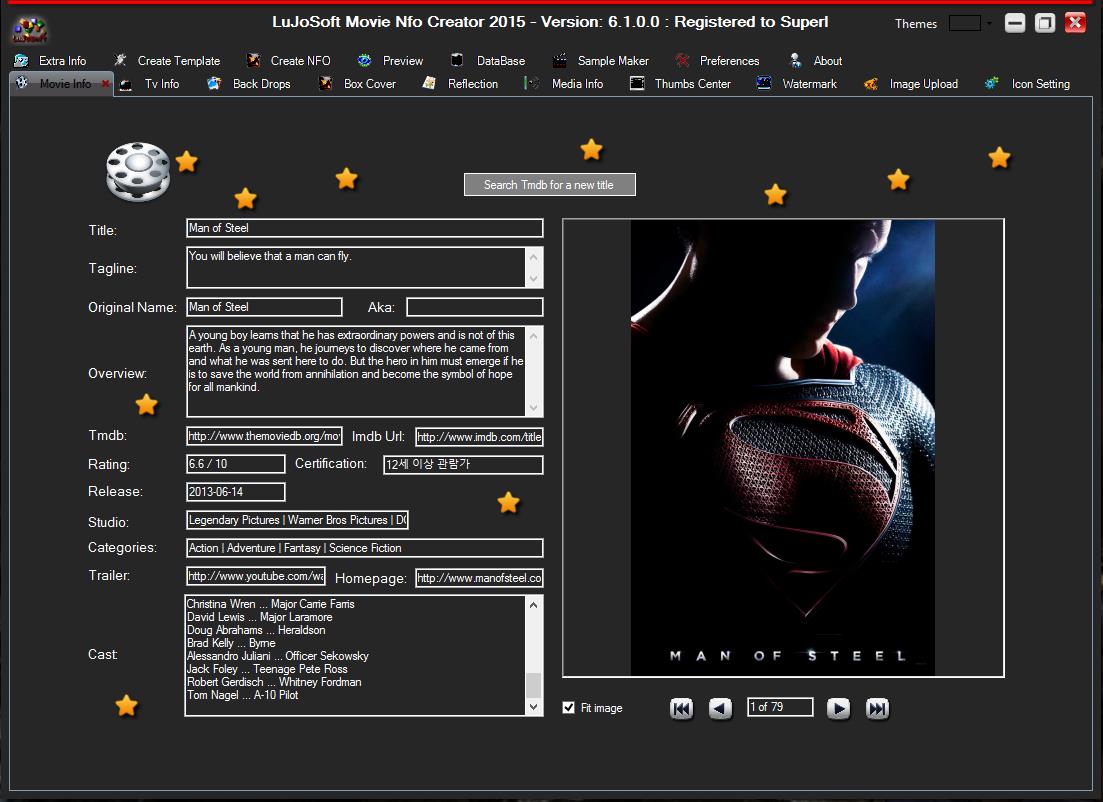 New setting to have the tab on the left side.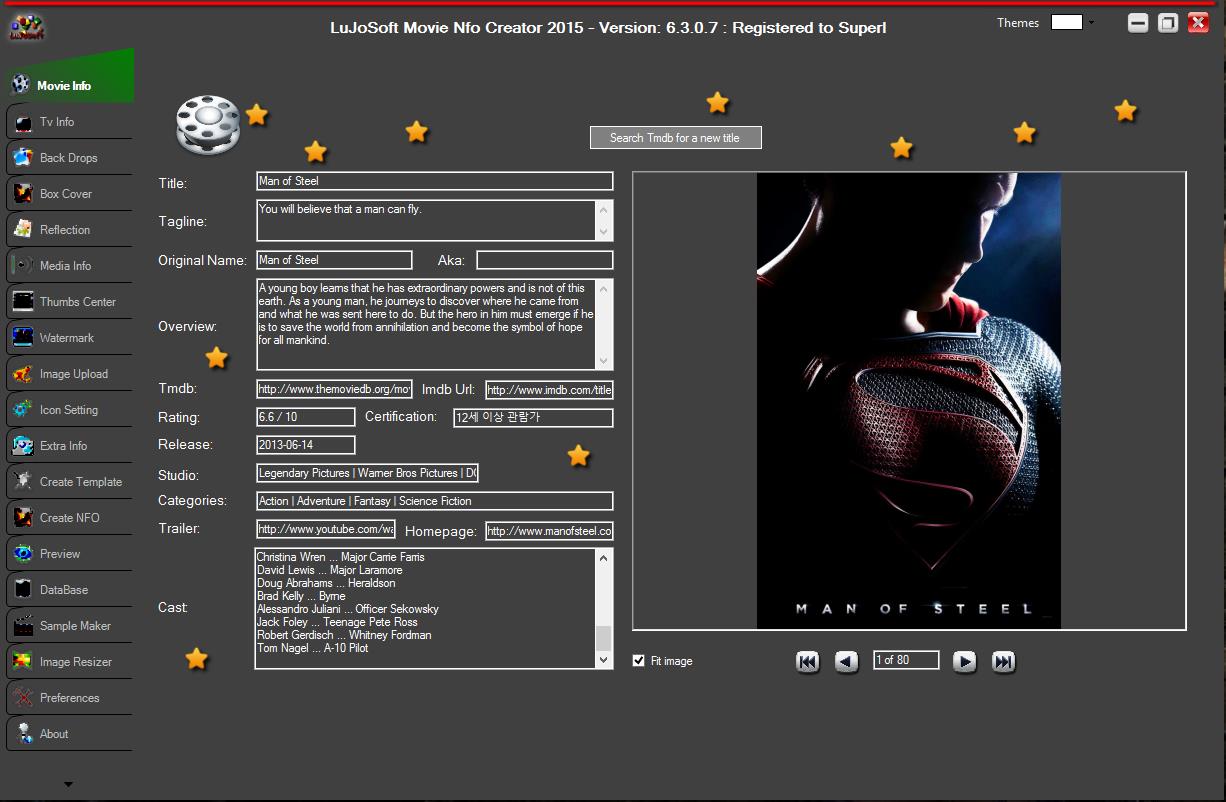 The new feature Sample Maker will create a sample in the blink of the eye.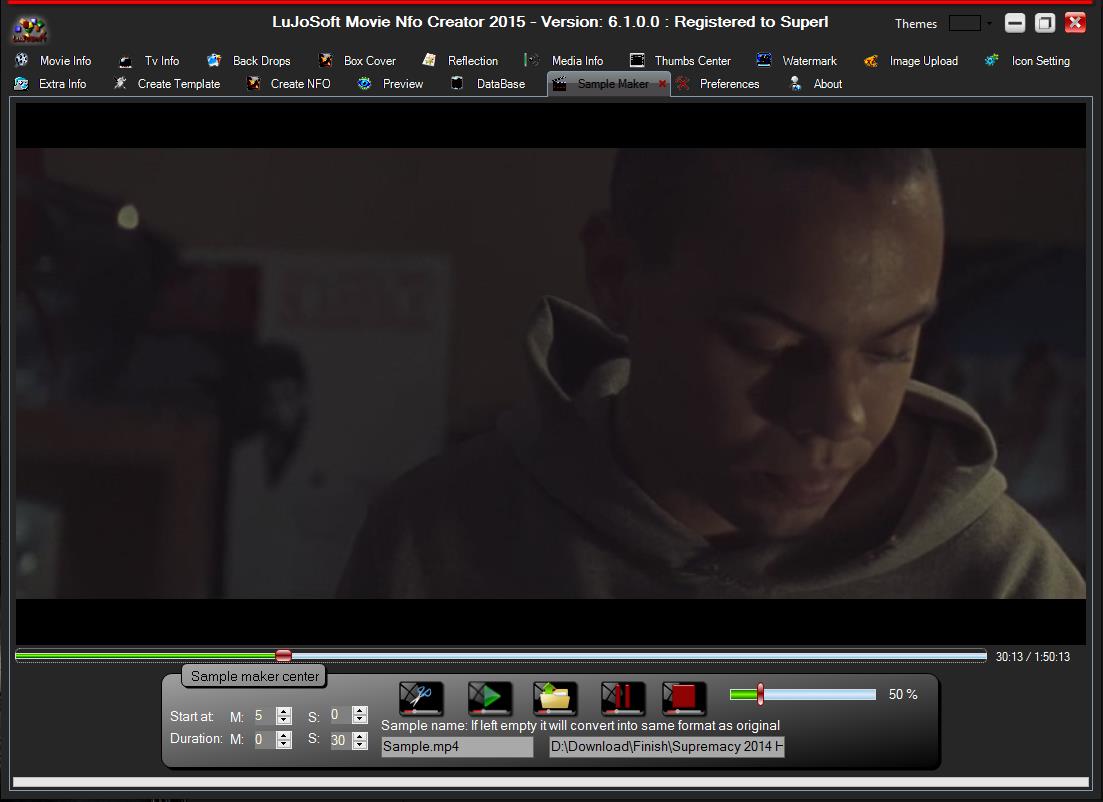 Introduction:
After many builds and versions of Movie Nfo Creator, I finally achieved more than what I really wanted from this app. Since day one I wanted to create a tool that would help everyone to create the perfect description to post in forums on the web. With this version LuJoSoft Movie Nfo Creator 2015 I really accomplish my goals, to make it so that everyone will be able to use it no matter what kind of template they use to create their descriptions.
What is new about this version:
Much faster than any other version, the core of LuJoSoft Movie Nfo Creator 2015 is completely redesign, this version will remember all your settings that you made the first time, so with this version after the first creation you won't need to visit all the other tab to create a description, just choose a movie or tv show then import the movie file then create the nfo.

The tab system completely redesign, you are able to view only the tab you want. Also added a new tool "Sample Maker", it will create sample from any format to any format in a blink of the eye.
Feature:
Easy to use.
Support almost all video formats.
Fast.
Ready to post your nfo in 1 minute.
Almost no typing.
Create any thumbnails from a movie in sec.
Watermark all your image.
Upload to ImageShack, imgur or Photobucket in one click all the image you want.
You can use your own icons.
You can choose to include up to 15 different screenshots.
Up to five logos can be include.
Footnote can be include.
Preview browser to see your output in a real post.
Database from sql sever compact edition.
Live search for any title in the database.
Backup and restore to any folder for the database.And much more.
Sample Maker.
Close unwanted tab.
Remembers all your settings, no need to re-select them.
Include a video player base on Vlc.
And much more, and also more to come
System Requirements:
.Net framework 4.5.

Note that the setup will install it if needed.

Sql server Compact Edition.

Note that the setup will install it.

A screen resolution to fit the application 1100 x 800.
Install instructions:
Download LuJoSoftMovieNfoCreator2015_Setup.exe.
Double click LuJoSoftMovieNfoCreator2015_Setup.exe and install.
This decision was very difficult for me to take!
For almost now 7 years I'm creating free app for everyone to use without limits or any other trap that others do to try to get money for there work. After over 500,000 d/ls I received $ 180.00 in donation from exactly 6 users, thank you again for the appreciation you gave me.
The problem is that my app are free and I did maintained them free even if I'm paying from my pocket every time you guys use it, every month I pay fee to all those image storage so you can store them and use the services for free, plus fee for LuJoSoft server that I pay every months "don't forget this is a private server and it's far from free ", to be able to continue to distribute all the app I'm producing for your use, all this without advertising on the site.
Note that the donation will give access to all support forums for all the applications and will receive a donator rank to access those forum, all other member won't get support, also update will be enable for user that will support me.
Note to all users that will crack, patch or modify the application to save a small donation then I will crack, patch or modify your PC as easy you did with my application. And for many of you knows what I'm able to do so consider yourself warned.
Note: I don't care about the donation amount even $1.00 is good and better than nothing.
---------------------------------------------------------------- Old Version -----------------------------------------