LuJoSoft Lmdb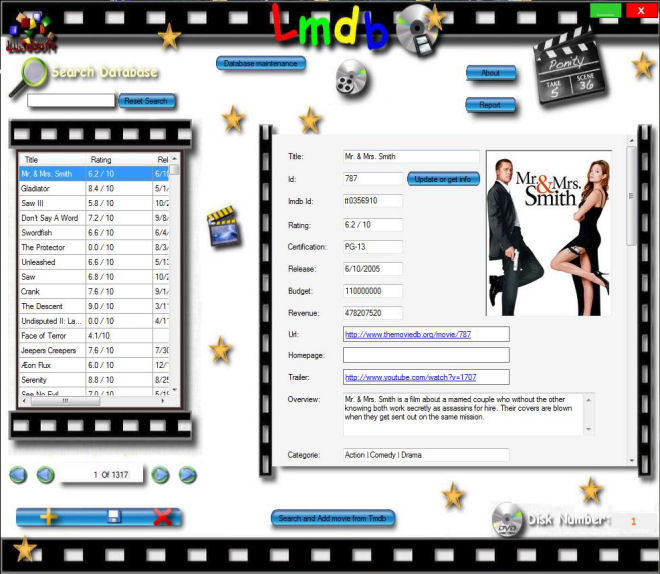 Introduction
Tired of managing your movie collection manually? Is your DVD collection software difficult to use? Are you looking for easy-to-use movie database software? Stop right there! We have the solution. For all you movie collectors out there, LuJoSoft Lmdb has been created to navigate easily through your entire movies collection using a simple, intuitive tool designed just for you. LuJoSoft Lmdb movie software is easy to download and install and is a simple yet powerful way to manage your expanding movies collection.
LuJoSoft Lmdb is the ultimate movie database software designed to organize your movies collection for easy reference. You can catalog your personal movies collection of DVDs, Blue Ray, VHS tapes and much more. All movie details are downloaded via the Internet automatically. Therefore, there is no manual typing, only in the rare case if the movie cannot be located in our vast database. LuJoSoft Lmdb gives you the easiest way to manage your DVD collection.
Track your Movie Database easily...
LuJoSoft Lmdb is simple to update and easy to use. Your Movie collection is downloaded via the Tmdb for almost any Movie you can imagine.
Browse your movie database quickly...
Once you've added a number of Movies to your collection; you can view all the info of them on the main screen.
It is also possible to browse your personal Database by Genre, Rating, Disk number or Year! To Search your collection for a Movie within these areas simply press the first letter of the Movie title!
View Movie information...
By clicking on a Movie from your collection within the database view you will be presented with a tremendous amount of information. The Movie Name, Director, Genre, Release date, Imdb Rating, Imdb ID#, Tmdb url, Plot or Synopsis and much more
And of course don't forget a unique disk number so you can find the movie fast in you DvDshelf
Manual Entry...
In the rare case that you can not locate your Movie in Tmdb database; simply add the information manually to your collection.
This user-friendly screen gives you a way to keep track of your Movie Database no matter what!
Print your entire movie database...
With LuJoSoft Lmdb youcan print your entire Movie Database with the click of a button!
The collection Report contain and can be sorted by Title, Genre, Rating or disk number!
Why is it the best movie database of all...
Because it's absoutly Free!!! No catch, no nag screen or cripple function.
Features:
Easy to use interface.
It as it's own report viewer.
You can print report or save them to Pdf, Word or Excel format of all your movies collection.
It's a Sql server compact edition use as database so no need of a server running on you system.
And much more for you to discover.
it's absoutly Free!!! No catch, no nag screen or cripple function.
Sytem requirement:
Should work on any windows version tested only on 32bit OS.
.Net framework 3.5 The setup will install it if you don't have it.
Windows installer 3.1 The setup will install it if you don't have it.
Installation:
Unrar LuJoSoft_ Lmdb.rar to any folder or desktop.
Open the new created folder.
Double click setup.exe.
Then enjoy!
[/align]