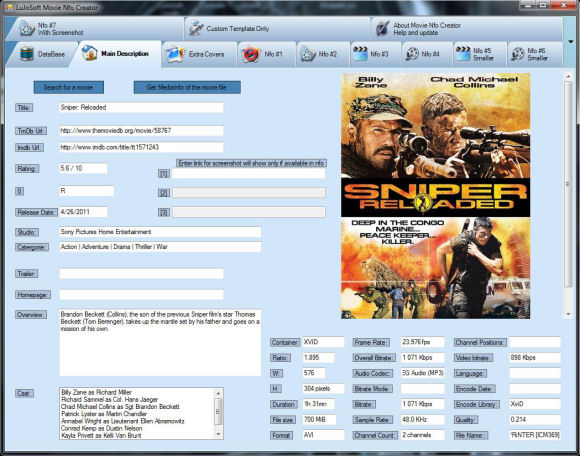 LuJoSoft Movie Nfo Creator
Awards received:
Introduction:

Movie Nfo Creator is a special tool to create ready to use template for description in forum or torrent site. With Movie Nfo Creator you will save time creating your description because it will do it all for you without having to enter any text or the use of your keyboard.
Feature:
Support all video formats.
Fast.
Sql server Compact Edition database that can auto store all your nfo.
A live search function to the database.
A check box to auto save all your new nfo to the database.
Tab to preview in real time your nfo before posting them
Tab to get more covers, backdrops or screenshots. .
Ready to post your nfo in 1 minute.
No typing.
As auto update function, that will check for new update every week and an update now button.
It's absolutely free!!! No catch no nag screen or cripple function.
How to use it:
Search for the movie title.
Select the movie file you want to create the nfo about.
Go to the nfo tab and press Create Nfo button.
Voila! Your done you can save it to file or press the copy button and paste it.
System Requirements:
Should work on any windows version tested only on 32bit OS.
.Net framework 3.5 SP1.

Note that the setup will install it if needed

Sql server Compact Edition.

Note that the setup will install it
Install Info:
Download setup.exe
Double click setup.exe
Enjoy!!!
For request for custom made template and example of the template go in the forum
Special thank's for their library that made this project possible:
MediaInfo

themoviedb

Before downloading this software I've viewed the license agreement and accept it
This files was download times.