LuJoSoft Thumb All Movies 2016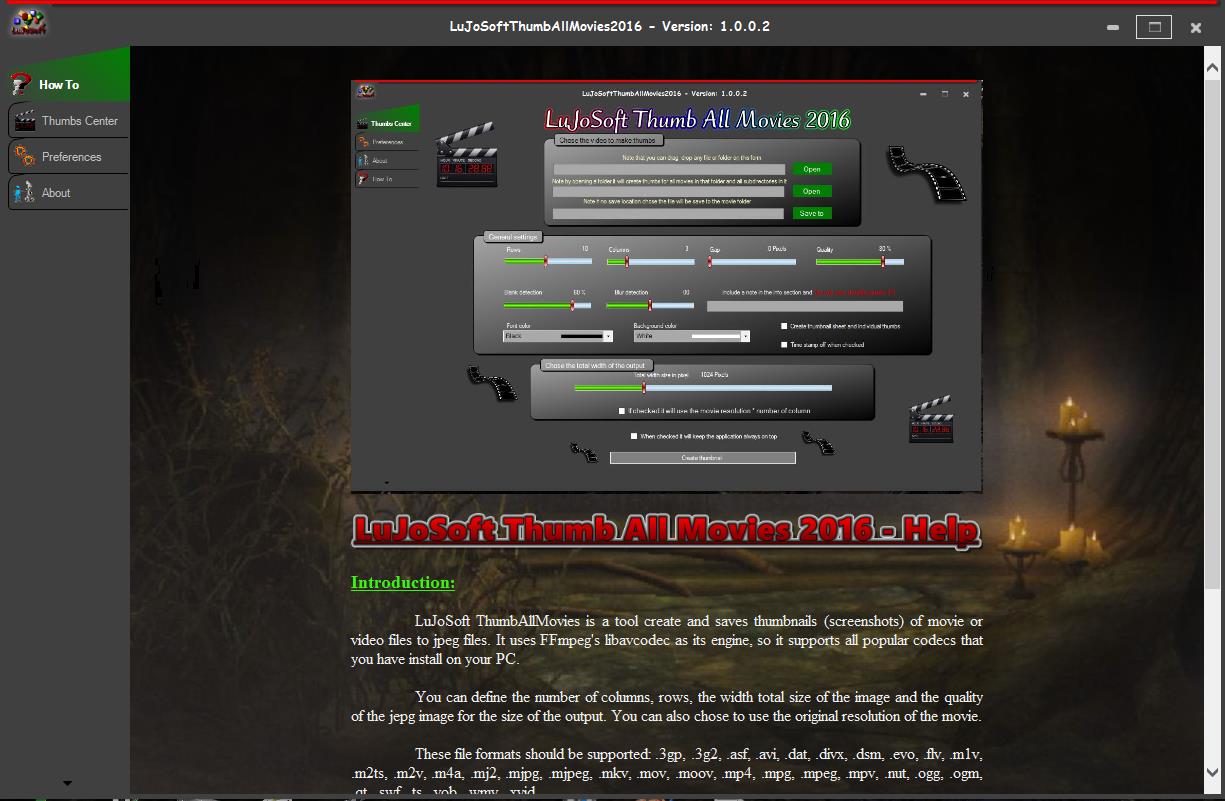 Introduction:
LuJoSoft ThumbAllMovies is a tool create and saves thumbnails (screenshots) of movie or video files to jpeg files. It uses FFmpeg's libavcodec as its engine, so it supports all popular codecs that you have install on your PC.
You can define the number of columns, rows, the width total size of the image and the quality of the jepg image for the size of the output. You can also chose to use the original resolution of the movie.
These file formats should be supported: .3gp, .3g2, .asf, .avi, .dat, .divx, .dsm, .evo, .flv, .m1v, .m2ts, .m2v, .m4a, .mj2, .mjpg, .mjpeg, .mkv, .mov, .moov, .mp4, .mpg, .mpeg, .mpv, .nut, .ogg, .ogm, .qt, .swf, .ts, .vob, .wmv, .xvid.
Why a new version:
Wanted to make it better, more stable and better coding with the experience I'm getting since the last version. The most important feature of this new version is the possibility to be able to get screenshots from a movie without ever to have to open the application "well you have to open at least once to configure it"
I included a Shell windows Explorer Context Menu so after activating the context menu and configure the setting on how you want you screenshots to look, you will only have to right click on any video file you want and select "Thumb All Movies" and wait a few seconds for it to create your new screenshots without opening any application at all.
Features:
Easy to use.
Create any thumbnails in sec.
Time stamp control on and off.
Many quality control.
Support most of all videos formats.
Save thumbnails to the movie folder in jpeg format.
You can save individual thumbs.
As a quality control for saving the jpeg so you can control the size of the file.
Accept drag and drop for file or folder.
Batch process by opening or dragging and dropping folder it will create thumbnails for all movie in the folder and sub folder.
Blur detection control to skip unwanted frame.
Save all your setting at exit ready for your next move.
Plus lets not forget the new contest menu function
Plus many more function and setting.
How to use:
Open a movie file or a folder containing the movie(s).
Chose the number of columns, rows and gap between thumbs.
Select the width size of the output.
Then click the create thumbnails button.
System requirement:
Installation:
Download the setup.exe
Double click setup.exe
Enjoy!!!
Enjoy!
Superl