LuJoSoft SimpleFinance:
It is a simple home finance software. It tracks all your expenses, deposits, credit cards and loan that you have or gave. One of the key feature is that all the transactions are group by categories, banks or dates and this make it easy to view how much money you spent on food, car repairs, bills and more. There is no predefined categories or bank you create your own in a few steps. There is also a quick transaction tab that you will create once the with the press of one button will enter the complete transaction for you. Note it's not an accounting software it doesn't follow the rules of credit and debit.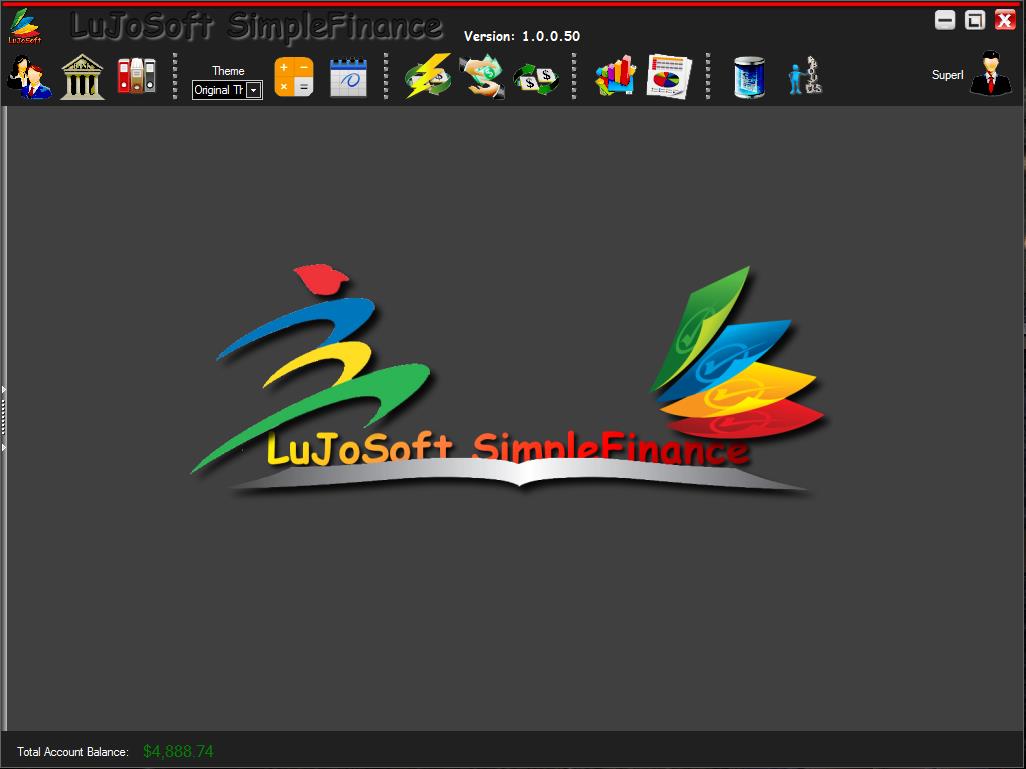 Like you can see it's design to be user friends, all the control as or will have tool-tips to let you know what the button about. Next image will show the main application with the side bar open.
Main Application side bar open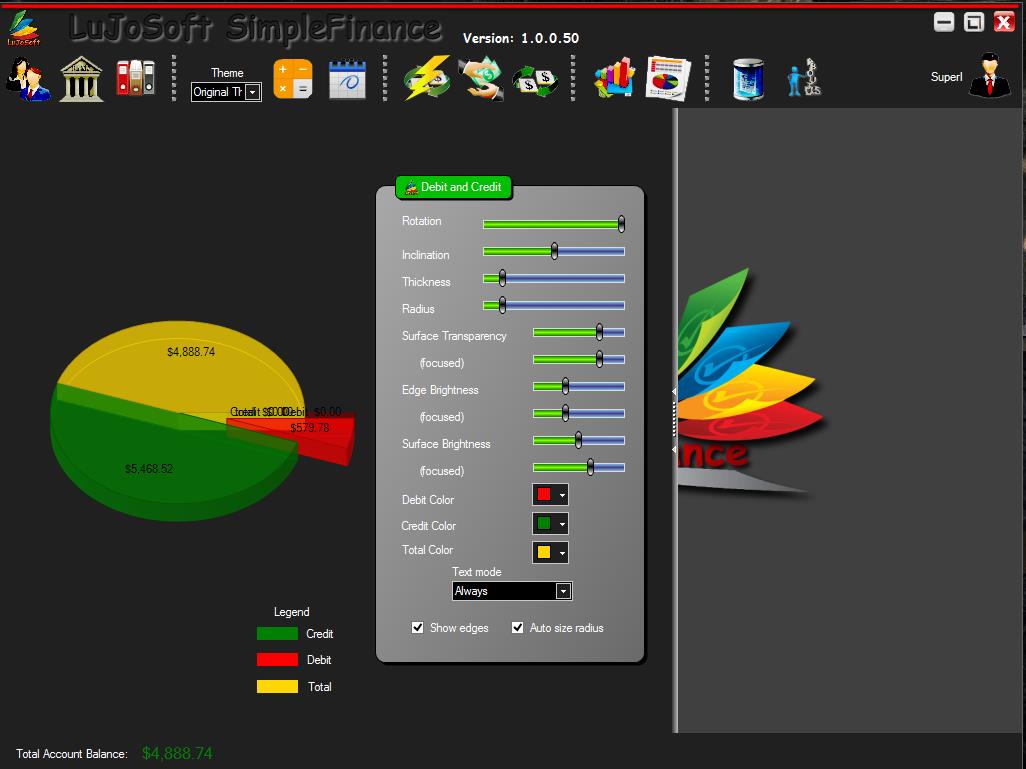 The pie chart will show you a chart of all your transaction up to date. Also you can customize it in many possible way, color, opacity, thickness, inclination, rotation and much more.
The create a user control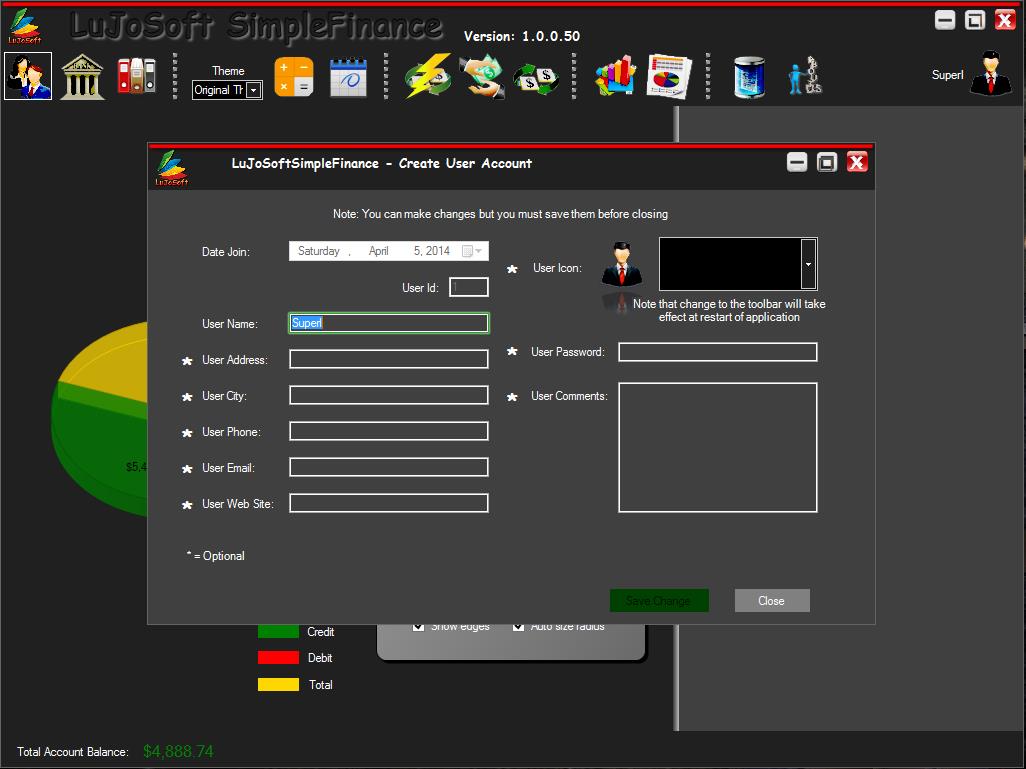 In this control you will define your account, the only thing required is the user name, but will be good to fill out as much info possible, in a near future you will be able to use the info for letterhead of your printable reports.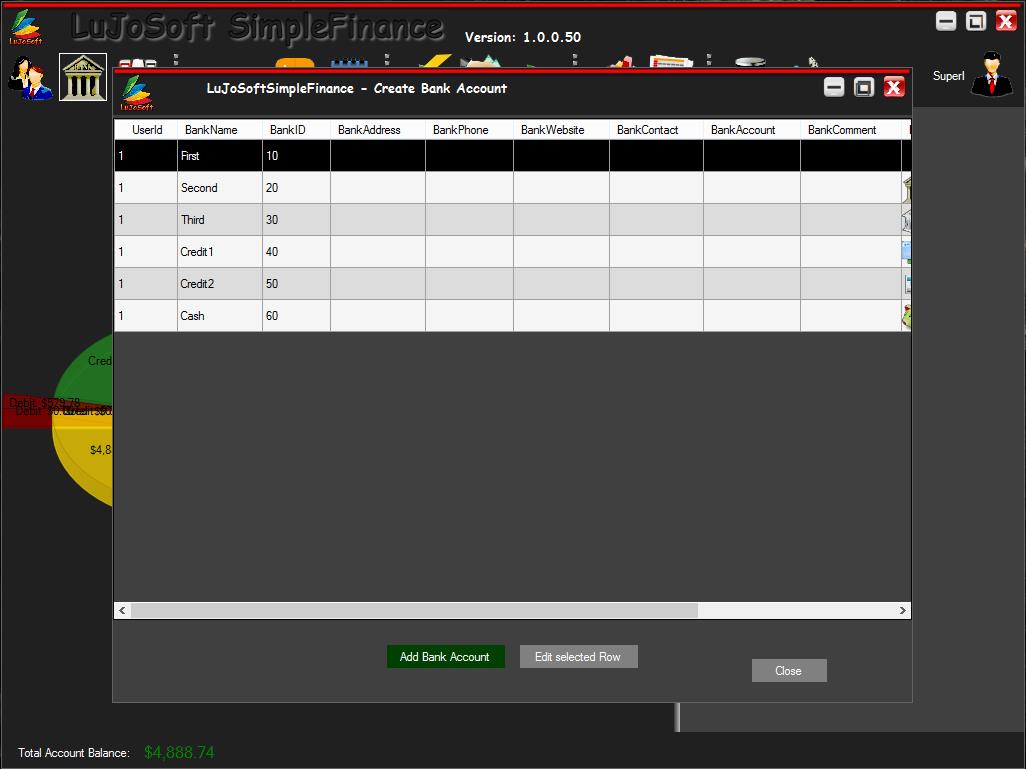 In this control you will define all your bank account, credit card, cash on hand and loan.
The request entries are bank name and icon.
Categories creation control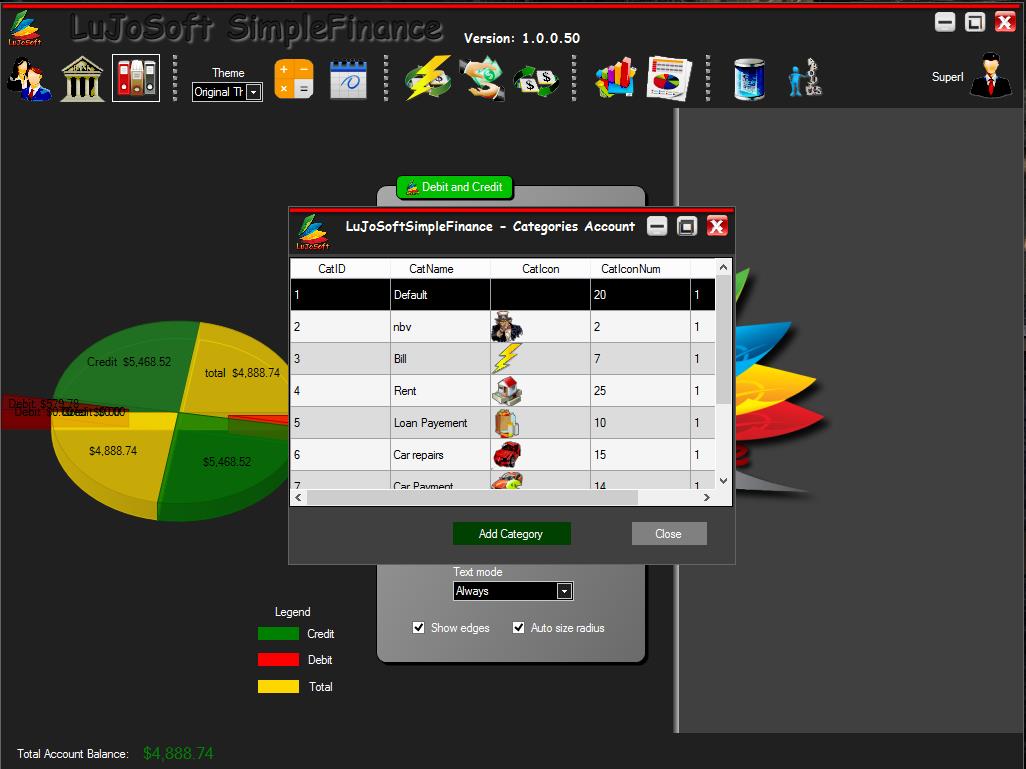 Very easy to use there is only two entries to do icon and name.
This is one of the most useful control for you, with those categories you will be able to filter the database and see how much you are spending for each of them.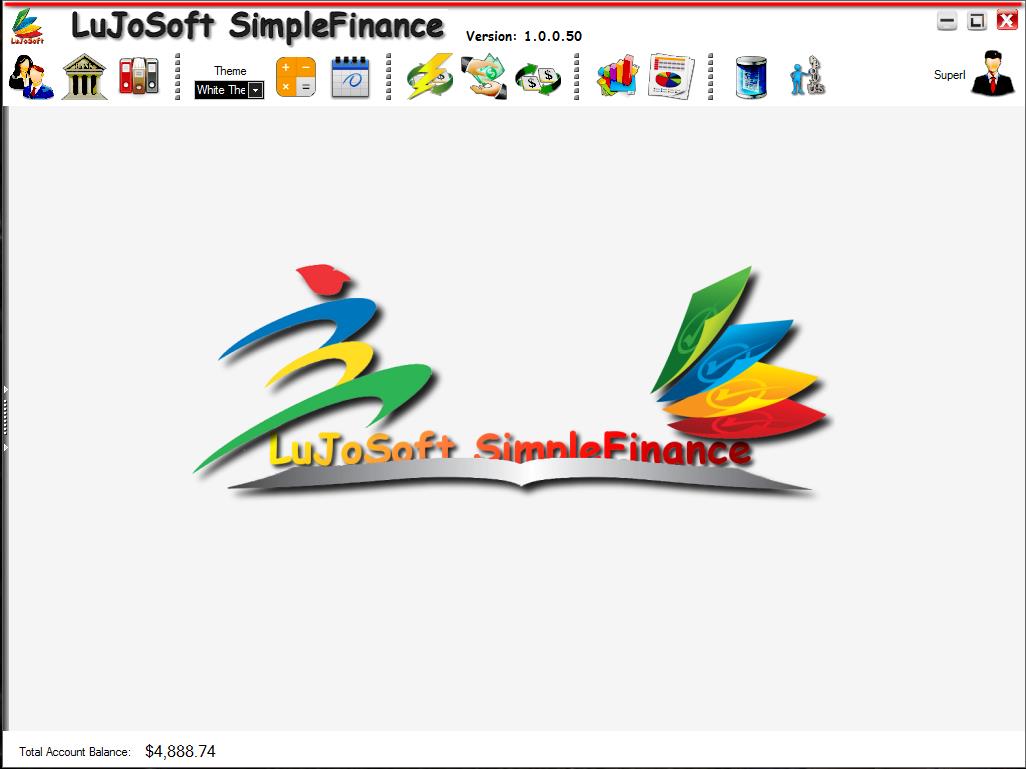 The title say it all, for now there is only 5 installed but will make more of them in the next few update, and at any time I will add any request in it.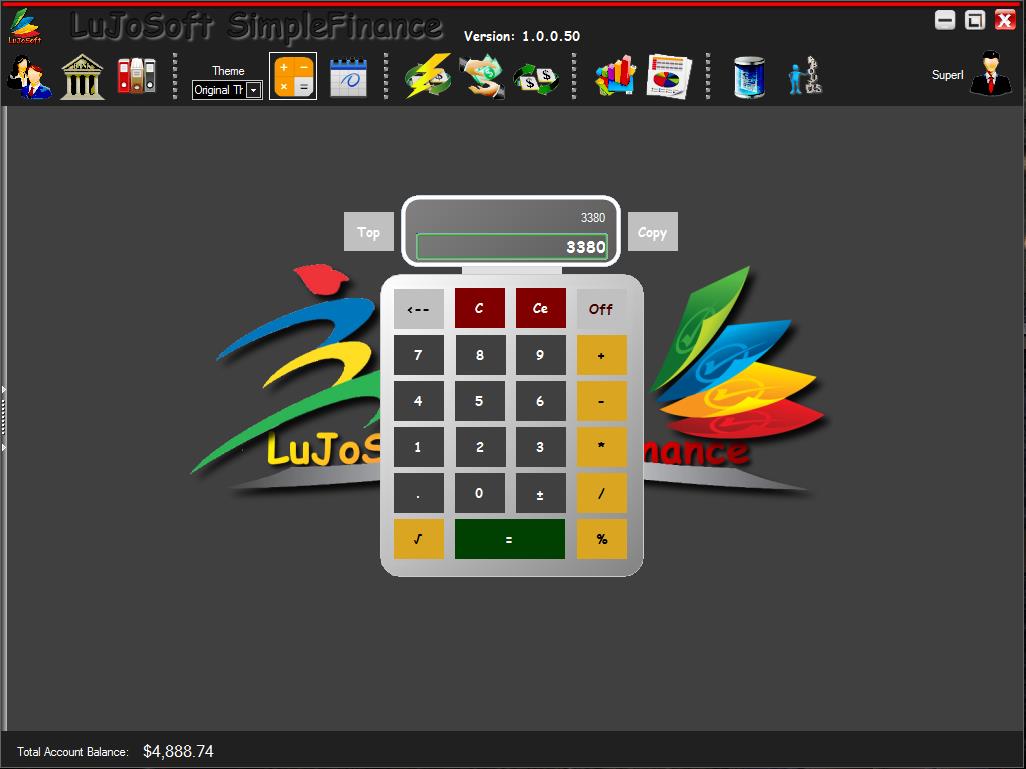 Very simple to use and you have a copy button that will copy the result and you just need to paste it anywhere you want.
Note for now it's only functional with the mouse but will be soon be able to use the keyboard.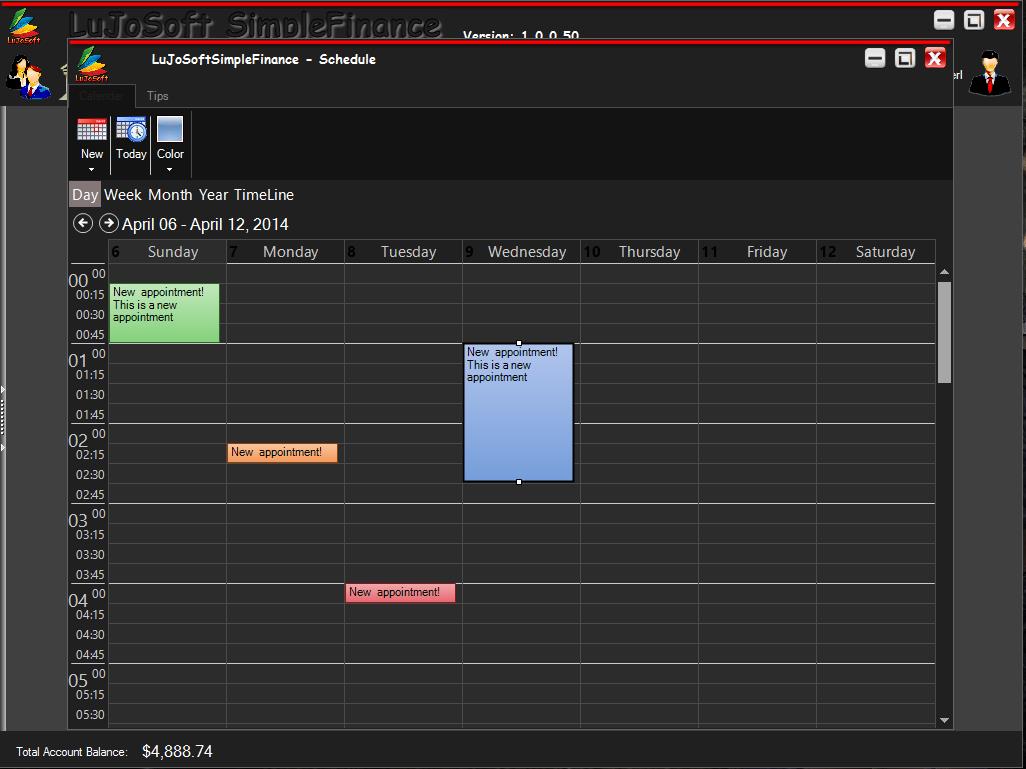 Many function in there to keep track of appointment, special days.... Play with it to see it full potential and let me know of any request to add to it.
Predefined transaction control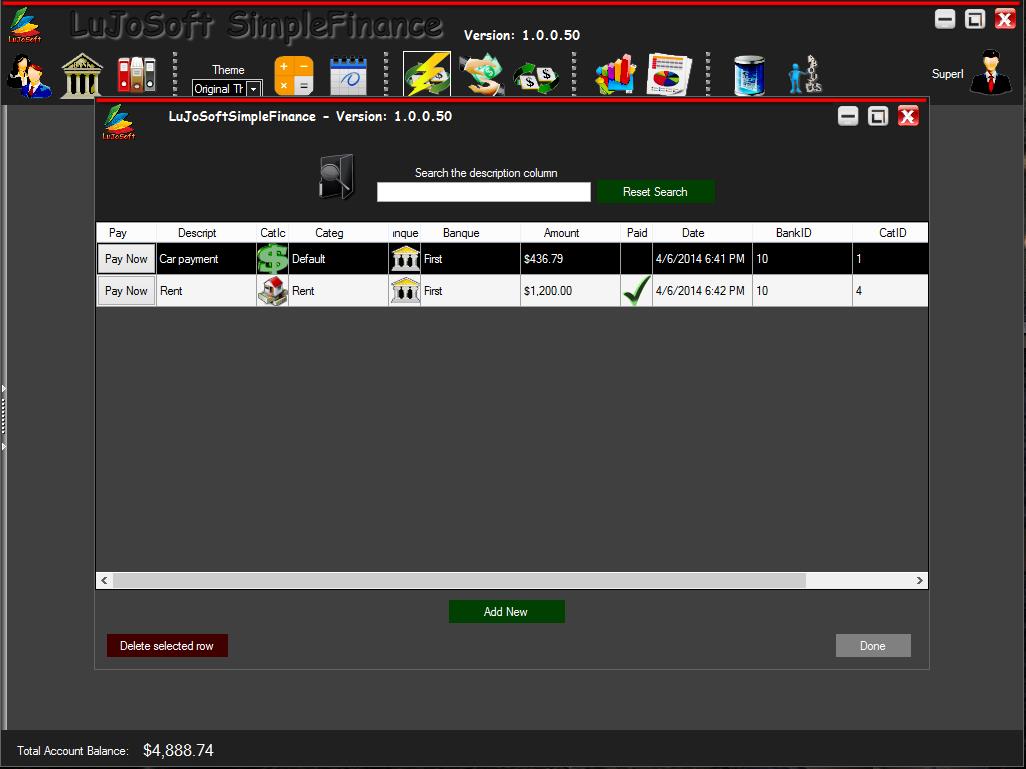 This control is use to create predefined transaction that you know that will be always the same.
When you need to enter the transaction you just need to click the pay now button in the desire transaction line. A check mark will be added to show that you paid it, and will be reset at the beginning of each month.
This control will save you lots of typing.
To edit any of the entry just double click on that line.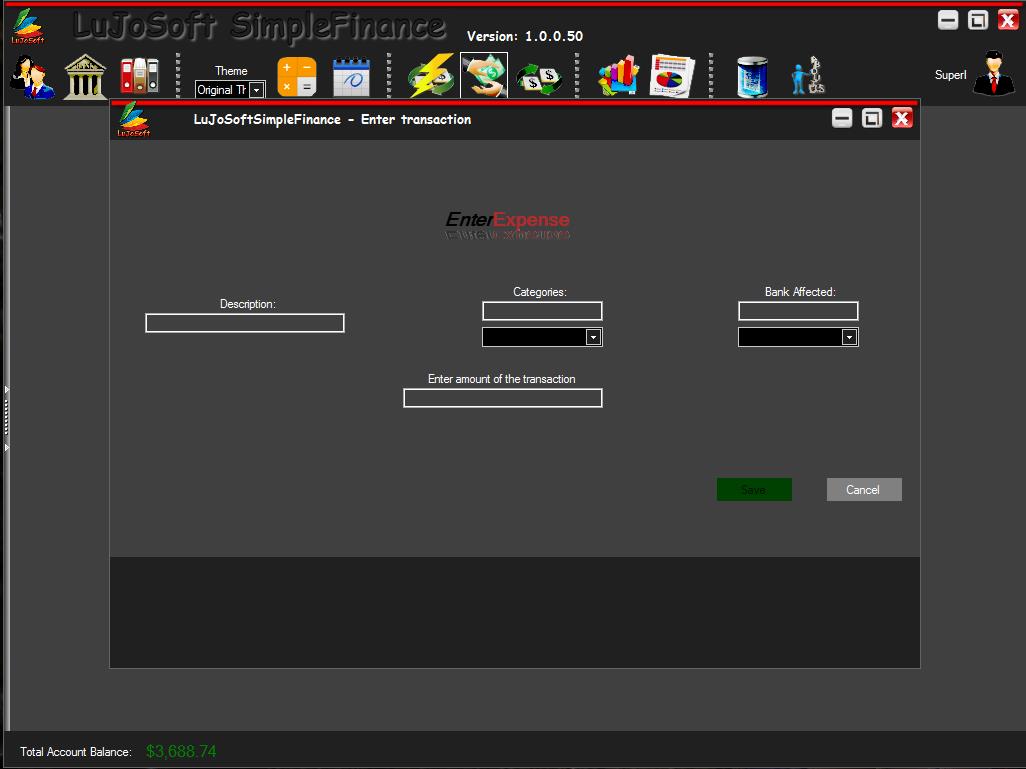 In this control you enter all income and expense.
Loan and transfer control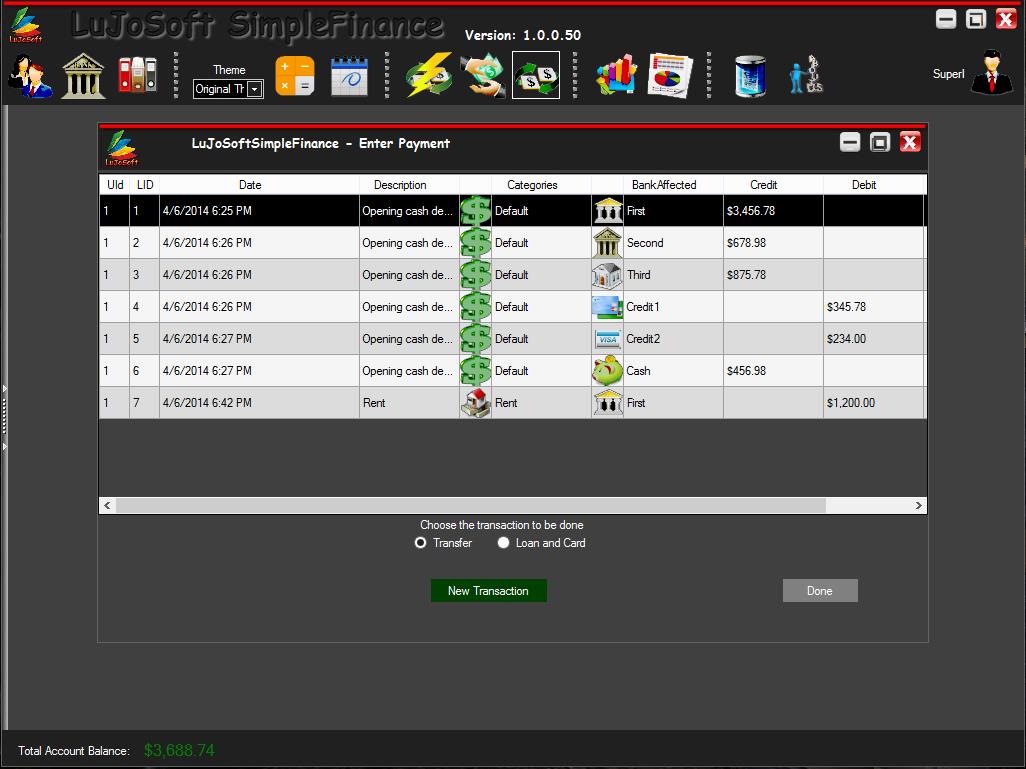 In this control you enter any transfer of money between any bank or pay any credit card or loan.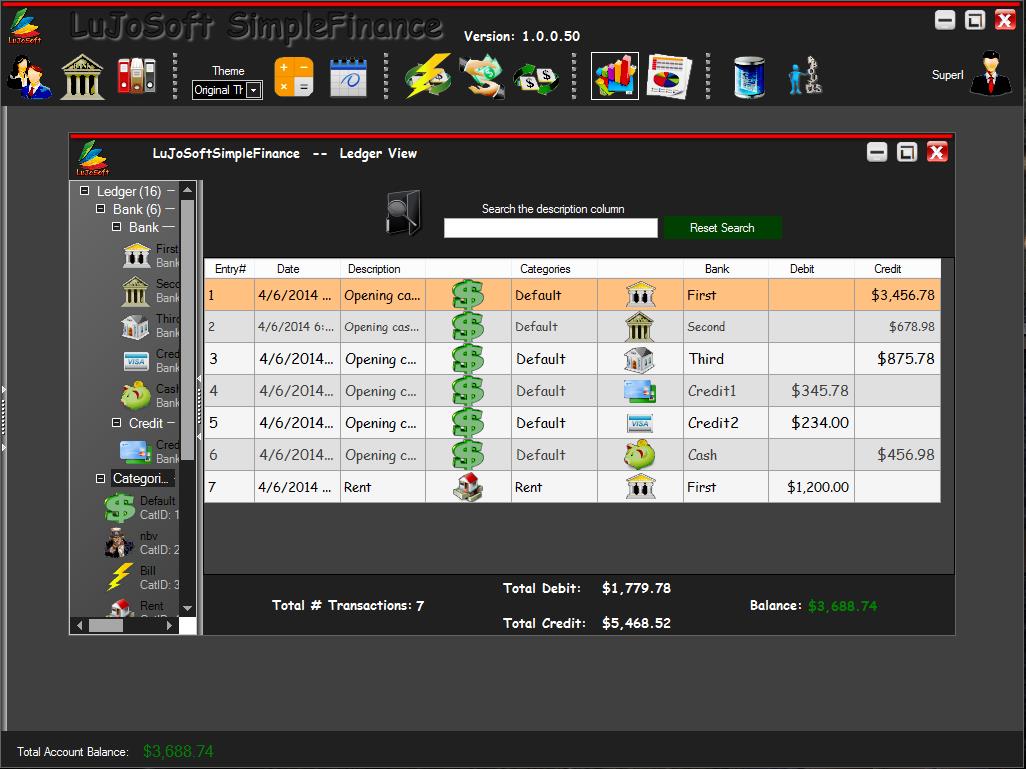 This is the control that you can see all the transaction you did, and you can filter them by all the account you created.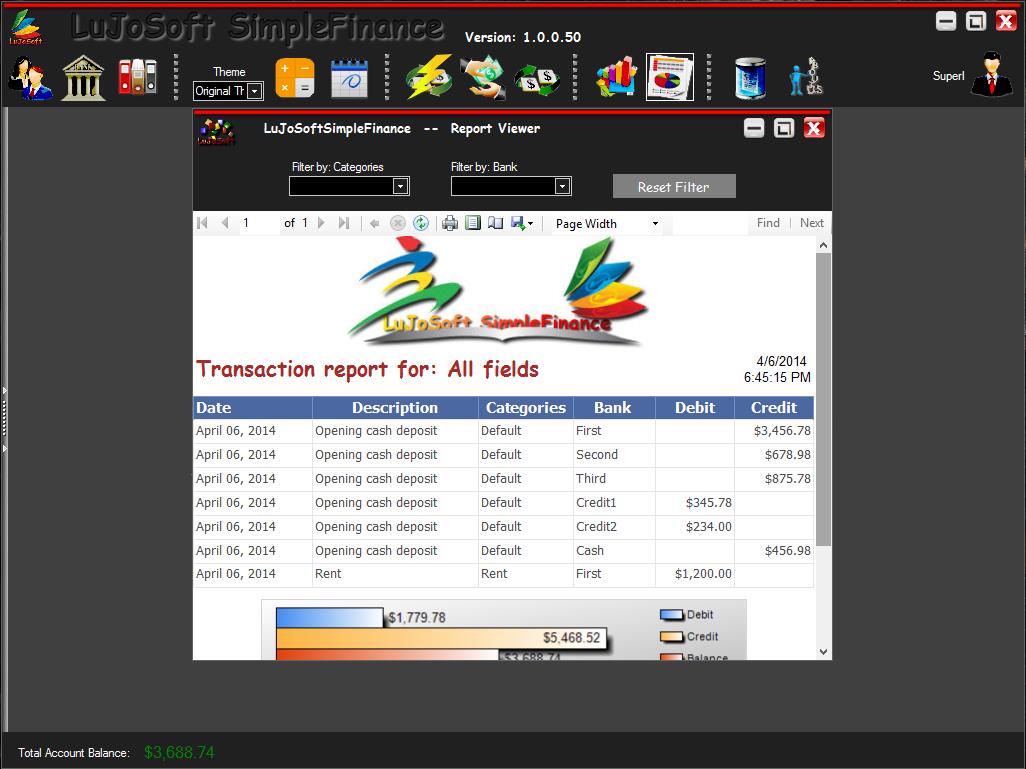 With this control you create report and you can print them or save them to pdf, excel, docx format
Here is one example of output below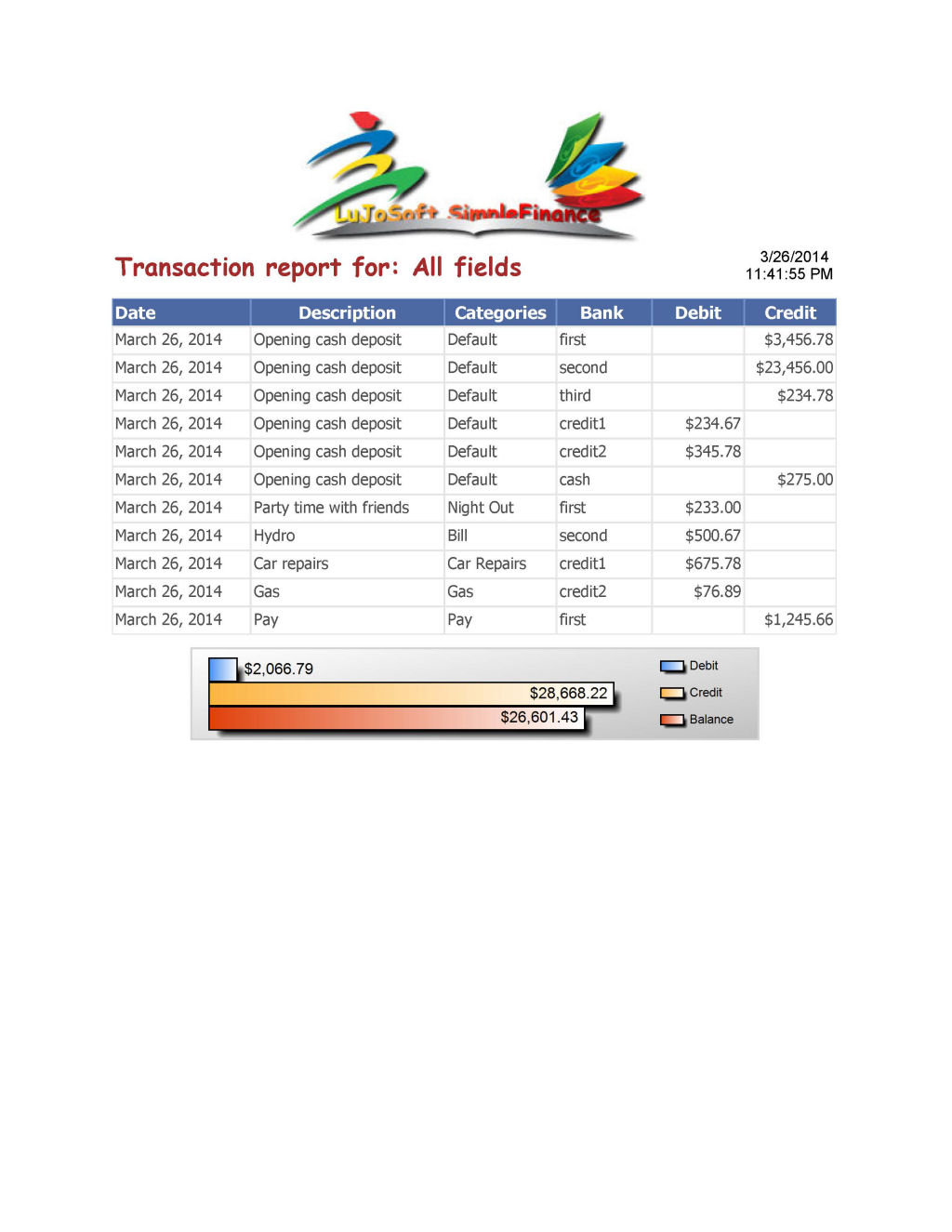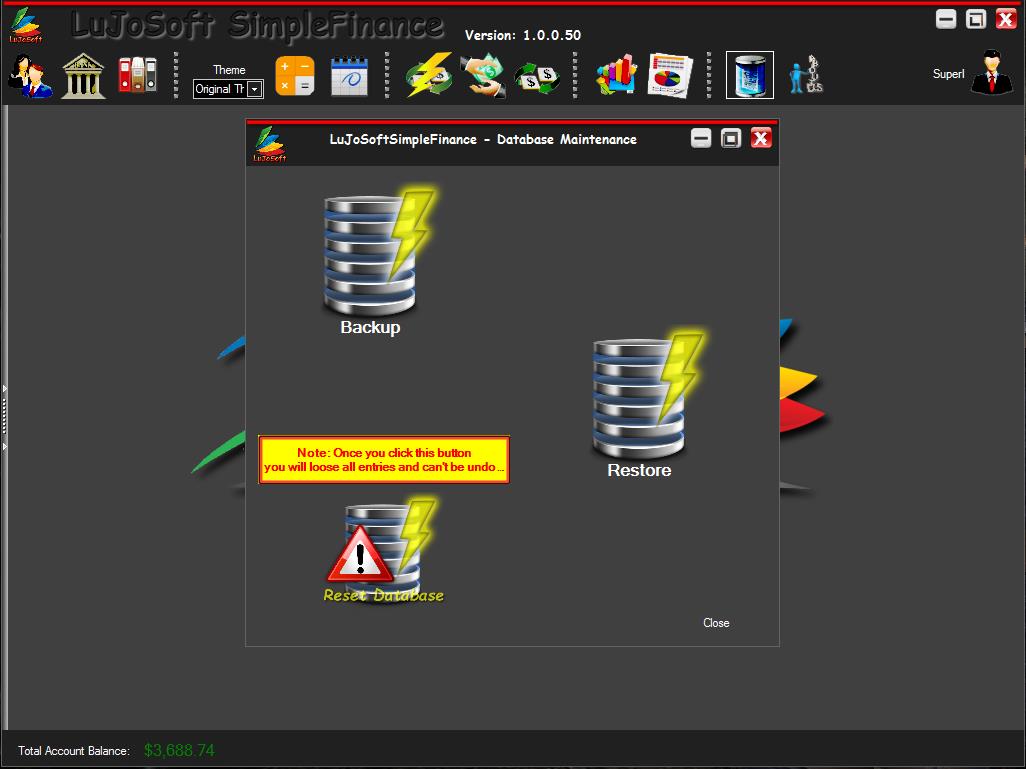 With this control you can backup, restore or reset your database.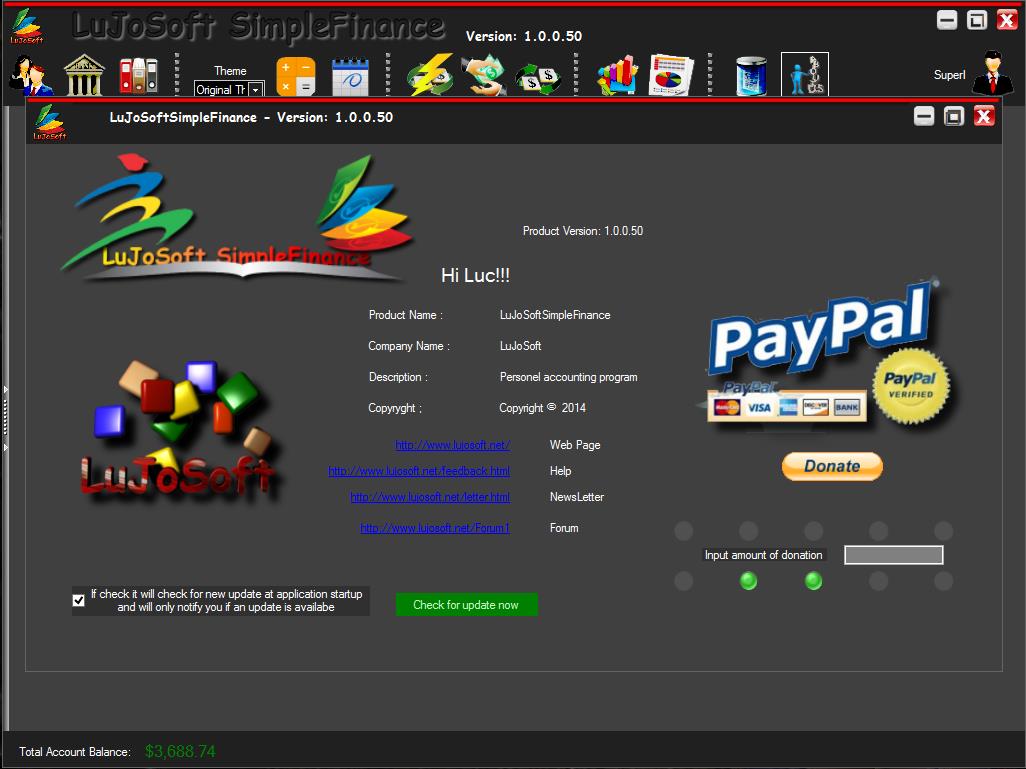 Prerequisites:
Note that all prerequisites will be install by the installer if needed.
Microsoft .NET Framework 4.5.1.

Supported OS.

Windows Vista SP2.
Windows 7 SP1.
Windows 8.
Windows Server 2008 SP2.
Windows Server 2008 R2 SP1.
Windows Server 2012.

Sql Server Compact 4.0 sp1.
Microsoft Report Viewer 2012.
Microsoft System CLR Types for SQL Server 2012.
System requirement:
Hardware Requirements:
1 GHz or faster processor.
512 MB of RAM.
850 MB of available hard disk space (x86) If you have to install Microsoft .NET Framework 4.5.1
2 GB of available hard disk space (x64) If you have to install Microsoft .NET Framework 4.5.1
Minimum resolution 1024X768.
Please
I started this project a few months ago and you need to know that I'm the only person working on it so for these reason I ask you guys:
Need help to have a better description and spelling check. Don't forget I'm french.
Need many suggestion to improve it. Again I'm alone in this project and ideals are getting lost at this point.
Finding png for the categories and bank icons. If you tried the program then you know what I mean.
Any feed back will be welcome negative or positive.
Hope you enjoy and like always: It's absolutely
Free!!!
No catch no nag screen or cripple function. :-h
[/align]