LuJoSoft ComicReader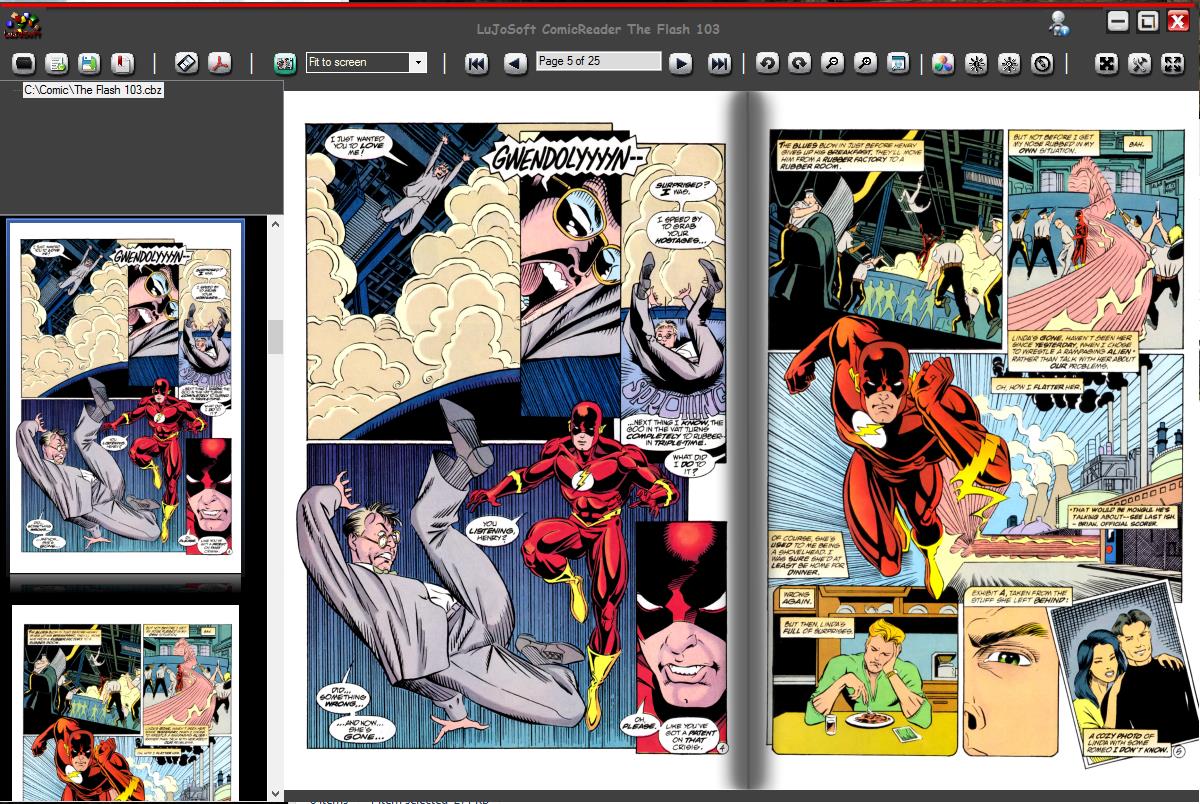 Introduction:
LuJoSoft ComicReader is a simple comic reader, even simple it is able to read all comic book formats (cbr, cbz, cbt, cb7, pdf etc..). It'simplest give you the best reading experience. LuJoSoft ComicReader will never alter the quality of your original files.
Feature:
Recognize format are cbr, cbz, cbt, cb7, rar, zip, 7z, tar and pdf.
Included filters all customizable Gama, contrast, brightness and sharpen.
Short-cut key available and all customizable:

Arrow Up Scroll Viewer up.
Arrow Down Scroll Viewer down.
Arrow Left Previous page.
Arrow Right Next page.
Page Up Previous page.
Page Down Next page.
Home First page.
End Last page.
ESC Exit full screen.
T Open and Close Thumbnails Viewer.
+ Zoom in.
- Zoom out.
Ctrl + x Save current viewer image to a specified folder.

Magnifier with settings for zoom factor, speed, width and height.
The open folder will load all comic books in the folder.
The file button accept multi selection of files.
different viewer style:

None, will show the image in is full resolution.
Fit to width.
Fit to height.
Fit to screen.
User defined width.
User defined height

book mode for double page.
Zoom in and Zoom out feature.
Rotate clockwise and rotate counter clockwise. • it's absolutely Free!!! No catch, no nag screen or cripple function.
System Requirements:
.Net framework 4.5 Note the installer will install it
Install instructions:
Download the setup file and extract.
Double click LuJoSoftComicReaderSetup.exe.
Then enjoy! Another release without no catch, no nag screen or cripple function.
Reviewed at
software.informer.com

Also reviewed at ilovefreesoftware
Software Informer Editor's pick award.
Software Informer Virus Free award.
Indicator of popularity for LuJoSoft ComicReader 1.0.0.43 more popular than of other software on 123-free-download.
This indicator is the dynamic. It reflects the state of your indicator of popularity for 'LuJoSoft ComicReader 1.0.0.43' in the current situation.