LuJoSoft CopyAndPaste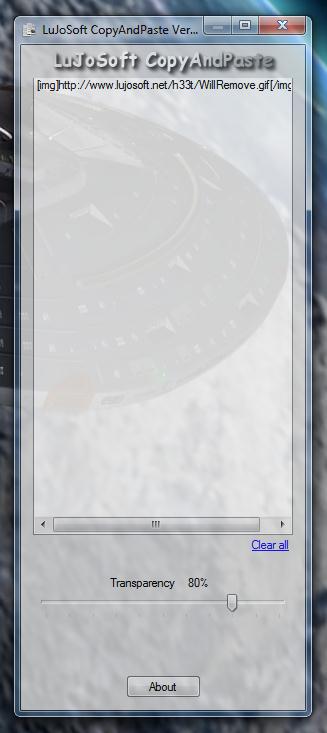 Introduction:
LuJoSoft CopyAndPaste is a simple copy and paste manager. When I say simple it means that it's simple to use, because is power is great.
I decided to create this program because of all the time I use windows copy and paste function, as you know the function is very limited, only the last copy is available to paste. With LuJoSoft CopyAndPaste no more you will have at your disposal all the copy you did since you started the application.
Features:
Transparency scroll bar.
Light on system resources.
And it's 100% free.
How to use:
1. Start the application.
2. When started you will see the application in the system tray.
3. Now all text and image that you will copy will be registered in the app.
4. To use a previous copy just left click on the icon in the system tray and choose from the list of copy you did then paste it where ever you need it.
5. To remove an item from the list just right click on that item and choose remove.
System requirement:
• Works on any windows version (tested only on 32 but should work on 64bit OS)
• .Net framework 4.5
Installation:
No installation it's portable
Download and double click it.
Enjoy!!!
Enjoy!
Superl