LuJoSoft EasyConvertTo HD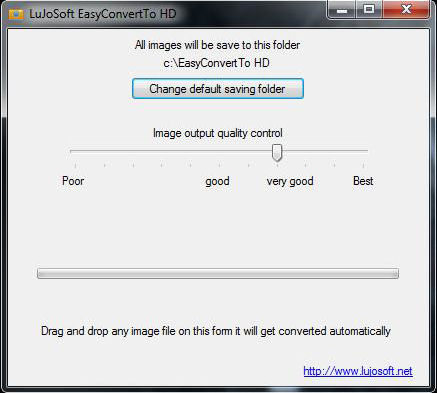 Introduction:
LuJoSoft EasyConvertTo HD convert many image format to the new HD Photo file format from Microsoft is available in Windows Vista and 7 and included in .NET Framework 3.0. It as better quality than JPEG at (most of the time) half the file size.
Features:
Portable.
Small application 244 KB.
Support jpg, png, bmp, gif, tiff, emf and wmf.
Adjustable Quality level control.
Drag and drop any image(s) on the form and they get convert on the spot.
Multi-selected images feature available.
Most of the time it's half the size of a jpeg for the same quality.
It's absolutely Free!!! No catch no nag screen or cripple function.
System requirement:
Should work on any windows version tested only on 32bit OS.
.Net framework 3.5 SP1
How to use:
Start LuJoSoft EasyConvertTo HD .
Choice of selecting a new default saving folder.
Just drag and drop any image on the application.
Your done enjoy.
Installation:
No installation require it's portable.
Extract EasyConvertTo_HD.rar anywhere on your PC.
Double click EasyConvertTo HD.exe.
Then enjoy! Another release without no catch, no nag screen or cripple function.
Enjoy!
Superl