LuJoSoft Win10 Tweaker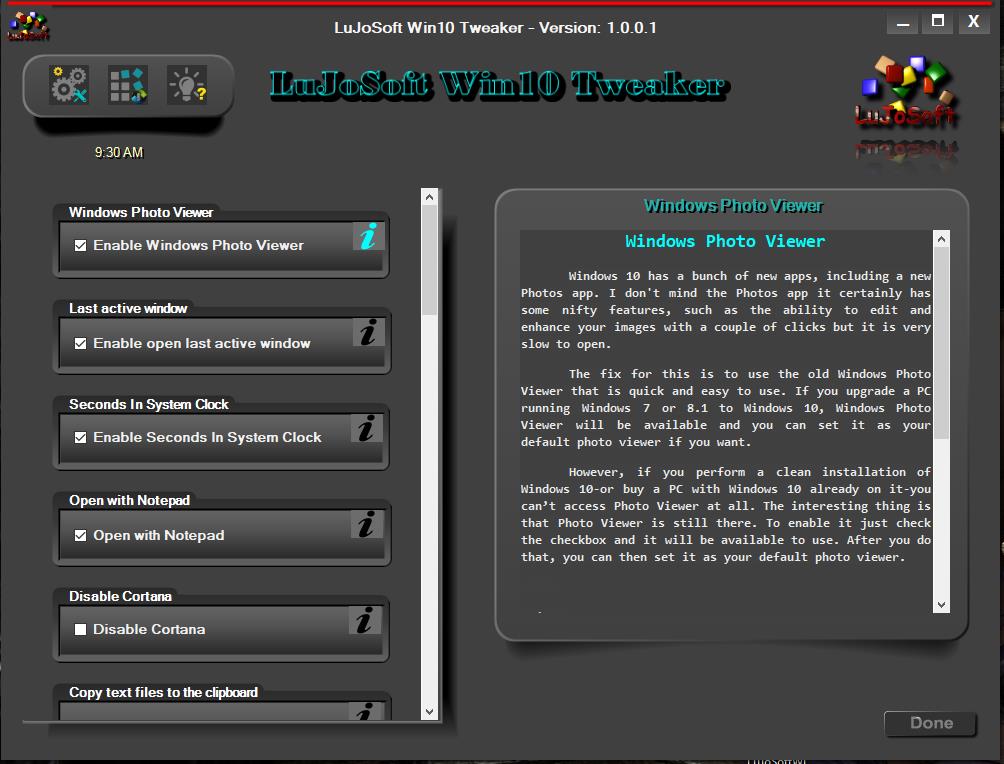 Description:
LuJoSoft Win10 Tweaker is a free Windows customization tool that gives you access to useful system tweaks, not just ones purely designed for aesthetics. Is a program that in most case will tweak the registry to change the appearance, the speed or show hidden tools in windows 10.
LuJoSoft Win10 Tweaker has some really good options, such as the ability to add useful shortcuts to right-click menus, tweak hidden parts of Windows and fine-tune your system for better performance. Overall, as a free system enhancement tool, LuJoSoft Win10 Tweaker is still in development and will come with more new feature, design and appearance in the next few week, so just keep the check for update on.
Like always I'm open to any suggestions to make LuJoSoft Win10 Tweaker better, now I'm working on categorizing the menu. Don't forget your input is important to me
Features:
As many features here are a few of them:
Copy File List.
Copy detail File List.
Copy Text Clipboard.
Disable startup delay.
Disable Cortana.
Enable God Mode.
High transparency Taskbar.
Last active window.
Open with Notepad.
Remove 260 characters limit in filename.
Remove the "shortcut" text.
Remove the shortcut arrow.
Speed Up Shutdown.
Many more.....
How to use:
Read the note on the opening screen.
Check the checkbox of the tweak you want.
To undo untick the checkbox.
System requirement:
Installation:
Download.
Double click the file.
Enjoy
Please test and report any finding, bugs and also any suggestion you might have.
Enjoy!
Superl