LuJoSoft Movie Nfo Creator V. 2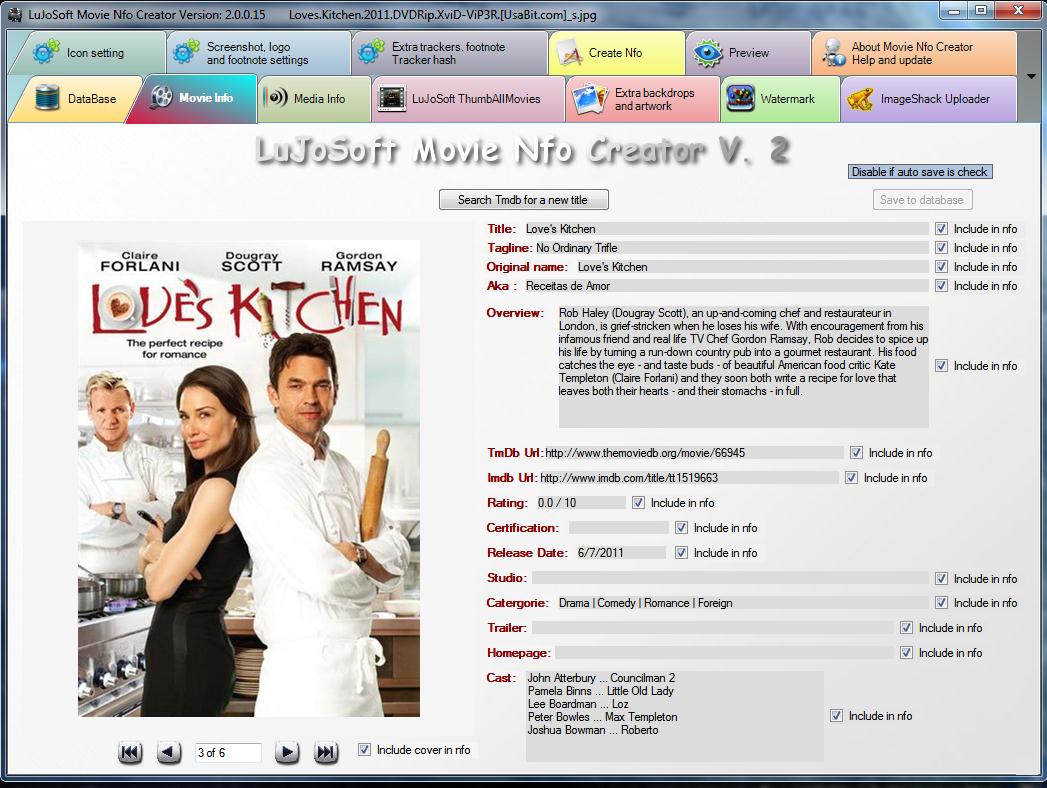 Introduction:
LuJoSoft Movie Nfo Creator V. 2 is the second version of

Movie Nfo Creator

. I wanted to improved it , so I added a few new tools to it. Now LuJoSoft Movie Nfo Creator V. 2 is becoming a powerful tool to create your movies description, it as all the needed tool to accomplish all the work within the same application. it will search all the info of the movie for you, you create thumbs from the movie in a second, you can watermark all of your image and much more.
Feature:
• Easy to use.
• Support almost all video formats.
• Fast.
• Ready to post your nfo in 1 minute.
• Almost no typing.
• Create any thumbnails from a movie in sec.
• Watermark all your image.
• Upload to ImageShack all your image to be use in your description.
• You can use your own icons.
• You can choose to include up to 15 different screenshots.
• Up to five logos can be include.
• Footnote can be include.
• Database from sql sever compact edition
• Live search for any title in the database
• Backup and restore to any folder for the database
• And much more.
Here are some image of all the tabs of LuJoSoft Movie Nfo Creator V. 2 " click on spoiler to see them"
System Requirements:
• Should work on any windows version tested only on 32 and 64bit OS.
• .Net framework 3.5 SP1.
Install Info:
1. Download the setup.exe
2. Double click setup.exe
3. Enjoy!!!
Here is an example of an output using this software
Removed because ext image link are dead
No longer supported for newest version go to this forum viewtopic.php?f=43&t=617