LuJoSoft ScreenCapture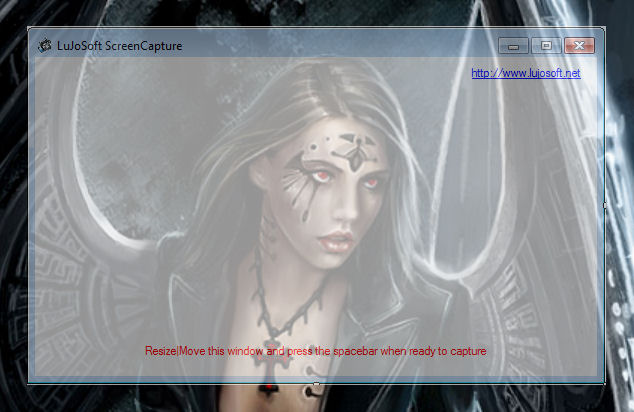 Introduction:
If you are looking for an easy to use screen capture tool, this works great. LuJoSoft ScreenCapture will allow you to take screenshot from any part of your screen with just a few mouse clicks and you will get your first image in under a minute. Great tool!
Features:
Portable.
Easy to use.
Quick.
No running process in the background.
Very small 558KB.
It's absolutely Free!!! No catch no nag screen or cripple function.
System requirement:
Should work on any windows version tested only on 32bit OS.
.Net framework 3.5 SP1
How to use:
Simple just double click on LuJoSoft ScreenCapture.exe to start the application.
Adjust the form to cover the part of the screen you want to capture.
When ready just press the spacebar on your keyboard.
En voila! Your screen is capture, the save dialogue will appear to save your file to disk.
Installation:
No installation require it's portable.
Extract LuJoSoft_ScreenCapture.rar anywhere on your PC.
Double click LuJoSoft ScreenCapture.exe.
Then enjoy! Another release without no catch, no nag screen or cripple function.
Enjoy!
Superl